6 Summer Car Care Tips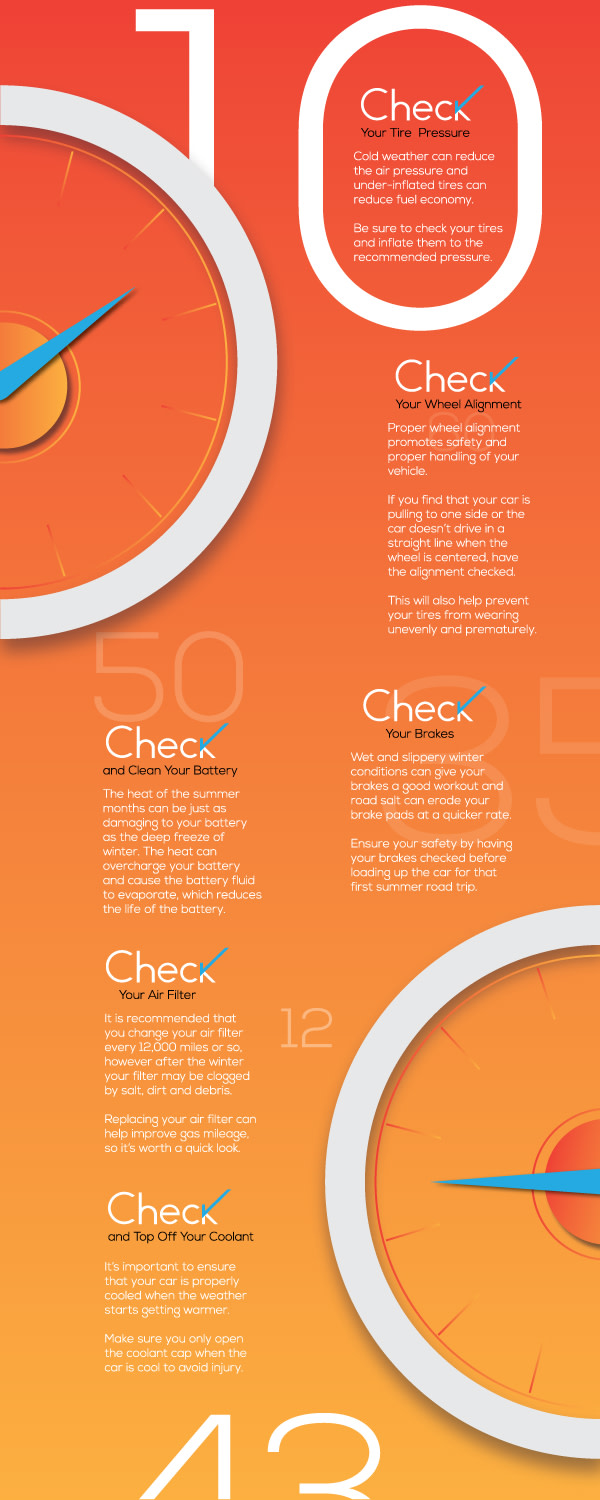 #1 - Check Your Tire Pressure
Cold weather can reduce the air pressure and under-inflated tires can reduce fuel economy. Be sure to check your tires and inflate them to the recommended pressure.
#2 - Check Your Wheel Alignment
Proper wheel alignment promotes safety and proper handling of your vehicle.If you find that your car is pulling to one side or the car doesn't drive in a straight line when the wheel is centered, have the alignment checked. This will also help prevent your tires from wearing unevenly and prematurely.
#3 - Check Your Brakes
Wet and slippery winter conditions can give your brakes a good workout and road salt can erode your brake pads at a quicker rate. Ensure your safety by having your brakes checked before loading up the car for that first summer road trip.
#4 - Check and Clean Your Battery
The heat of the summer months can be just as damaging to your battery as the deep freeze of winter. The heat can overcharge your battery and cause the battery fluid to evaporate, which reduces the life of the battery.
#5 - Check Your Air Filter
It is recommended that you change your air filter every 12,000 miles or so, however after the winter your filter may be clogged by salt, dirt and debris. Replacing your air filter can help improve gas mileage, so it's worth a quick look.
#6 - Check and Top Off Your Coolant
It's important to ensure that your car is properly cooled when the weather starts getting warmer. Make sure you only open the coolant cap when the car is cool to avoid injury.
There You Have it!
You can do all of these things yourself fairly easily. If you have any questions about servicing your vehicle, please feel free to contact us!



Testimonials
Five-Star_Review
San Antonio, Texas
3-27-2018
Five Star Review
San Antonio, TX
4-21-2018
Five Star Review
San Antonio, TX
4-20-2018
5 Star Review
San Antonio, TX
5-9-2018
5 Star Reveiw
San Antonioi, TX
5-9-2018
Customer Testimonial
San Antonio, Texas
10-6-2016
Customer Testimonial
10-6-2016
Five-Star Review
San Antonio, Texas
9-26-2017
Five-Star Review
San Antonio, Texas
9-25-2017
Five-Star Review
San Antonio, Texas
9-23-2017
Five-Star Service Review
San Antonio, Texas
9-23-2017
Five-Star-Review
San Antonio, Texas
4-15-2018
Five-Star Review
San Antonio, Texas
8-1-2017
Five-Star Review
San Antonio, Texas
4-13-2018
Five Star Review
San Antonio, Texas
3-13-2018
Five-Star-Review
Corpus Christi, Texas
4-11-2018
Five-Star-Review
San Antonio, Texas
4-10-2018
Five-Star-Review
San Antonio, Texas
4-3-2018
Five-Star-Review
San Antonio, Texas
3-27-2018
Five-Star-Review
Live Oak, Texas
3-27-2018
Read More