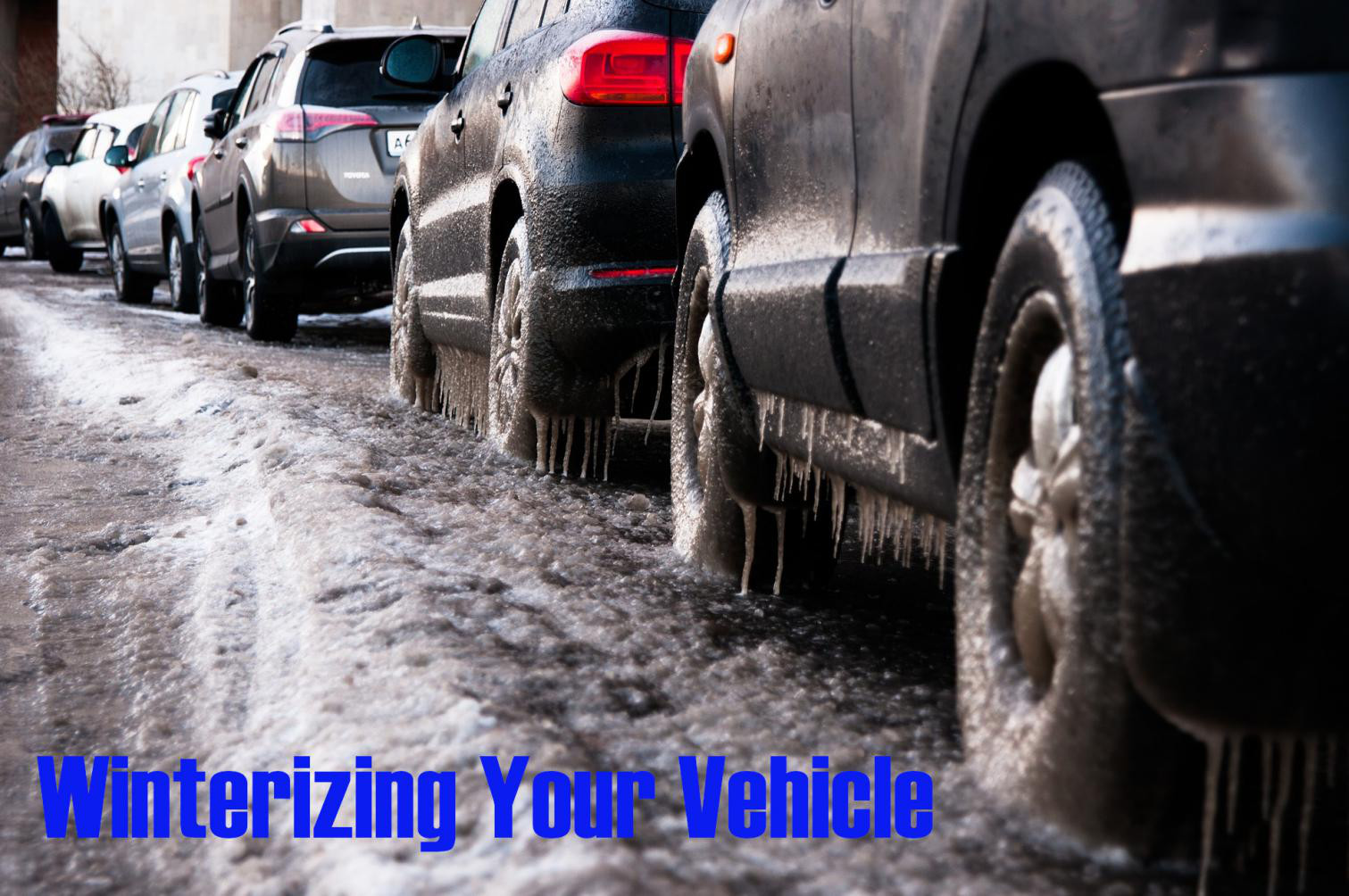 Winterizing Your Vehicle
November 19, 2018
It's that time of year again. Preparing our cars for the winter. With the holidays just around the corner, the winter months are right on our tail - lights. (Pun intended.) In the hustle and bustle of the Thanksgiving, Christmas, and New Years Holiday's, I'm sure we'll all be just a smidgen more focused on what we're going to be cooking for the family meal, or what gift we're planning on getting for that loved one, rather than thinking about what maintenance our cars might need. But lest we get side tracked, it's important to remember, that in order to accomplish most of these things, we need transportation to get us to and fro. Especially during the holidays, with all of the traveling. So, it's in our best interest to ensure that we prep and maintain our cars for winter driving. Is your vehicle prepared?
While this list isn't exhaustive, they are the most essential tasks you'll want to tackle for winterizing your car. Even for warmer winters.
Check your tires.
How thick is the tread? Is it time to replace the tire? Try switching your tires out to Winter Tires, which have better traction, than even "All Season" tires.
Spare Tire:
Be sure to always have a spare tire. We recommend a full-size spare, rather than a compact spare. Compact spares are only meant to drive on temporarily, and are not at all ideal in snow or ice. However, they're better than not having a tire at all.
Check your Battery:
Make sure it's still kicking a strong charge. You can have your battery tested for free at any local automotive supply place or local dealer. You may also want to consider investing in a battery charger.
Wiper Blades:
Check your wiper blades. How worn are they? We often forget to change these until they completely wear out, or when they start scratching the windshield. Being able to see while driving is essential, so don't put off replacing your wipers should they need to be replaced.
Fluids:
Check your Windshield washer fluid. If it's low, be sure to refill it. However, be sure that when you refill it, that you use an anti-freezing windshield washer fluid. If you're using regular windshield washing fluid and the temperatures get below freezing, the fluid will freeze, and as frozen things expand, it can possibly cause cracking in the parts that house the fluid, creating leakage, without your knowledge.
Check your coolant levels. Be sure to refill your antifreeze coolant.
Supplies:
Be sure to have plenty of supplies for road side safety during the winter months. These are necessary supplies.
Supplies such as these can literally save your life, should you be stuck in an unavoidable situation where you can not
leave your vehicle, or the heater in your car cannot generate any heat.
First Aid kit
Ice Scraper
Gloves and or instant hand warmers
Matches (waterproof) and lighters
Blankets/sleeping bag (at least 2)
Extra Coat/clothing
Flashlight
Extra Batteries for electronics
Extra charger for your phone
Jumper Cables (battery cables)
Spare Tire (Full size/winter tire if possible), with car jack and lugnut tools
Tools (A small traveling tool box and or socket wrench set that can help you change a flat tire at least.)
An Atlas (Map)
Water
Snacks.
Things NOT to do to your car during the winter/cold weather:
Never pour hot or warm water on your windshield to thaw it out. It will cause it to crack.
Never use hot water to thaw out your door locks, the water can refreeze in the locks.
Car Hack Tip:
Use kitty litter to keep moisture from building up on your windshield. (good for those people who have heating problems) Put some litter in 2 pairs of socks. Set each one on one end of the inside of the dash board near the windshield and leave them there. They'll absorb the moisture, and you won't have a fogged windshield in the morning.
Lauren Fix - The Car Coach "Winter Car Prep and Emergency Kit for Your Car"
Winterize Your Car: Car Expert Lauren Fix - Driving Conditions
Lauren Fix - The Car Coach "Winter Driving Visibility"
Fixing Frozen Locks: Lauren The Car Coach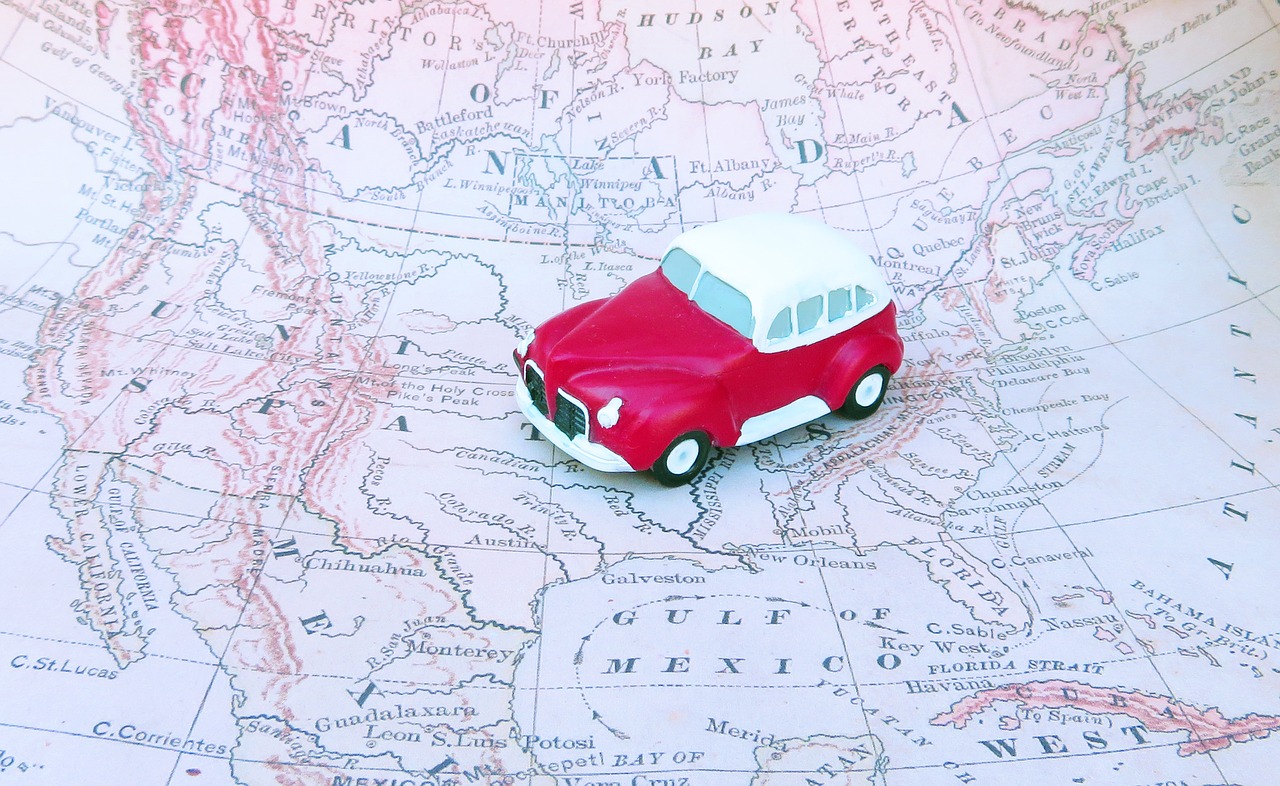 Road Trip Ready
October 23, 2018
We're all ready to just be done with this, the Day, the week, the month; the year! We've been gone too long, we're missing home, family and loved ones. We know it's time to reunite, to shake off those heavy bands, that iron yoke. We're ready for a break, we're motivated, we're singing, Starship's: "Nothing's Gonna Stop Us Now."But, as we start making a mental list of things to do, suddenly, our supernova dims out as something does stop us now.
Be Prepared! Preparing for a long trip can be a daunting task, but the thought of seeing loved ones inspires us to move forward. But we want to be road trip ready by prepping for the best, but also preparing for the worst. Packing, grabbing an Atlas, (a road map) and checking the weather are just a few preliminary things you'll want to work on before leaving. Here's some quick suggestions to help you get started for that long drive ahead.
Need to learn something new? Watch a short video on how to:
Change A Flat Tire
Checking Your Vehicle's Fluids
Here are some amazing car packing tips for taking food along.
The Best Traveling Times For Thanksgiving.
Saftey
Turn off your mobile phone's password before driving so that any First Responder or passenger can call for assistance, or get a hold of your ICE (In Case of Emergency), contacts. Remember not to use your cell phone while driving. It's illegal to talk and text by hand while driving in most states now. Have an automated response set up, or stop to return calls if necessary.
Cheers or Cheerio! The Thanksgiving Holidays is one of the most traveled days for family's of the entire year, and has recently been certified to be the deadliest holiday to be on American roads.
Being on the A-Team
Ultimately you want to be prepared and 'Ready for Anything'. This way, whether an unplanned event happens or not, you were prepared, and you'll still be able to smile and say:


HAPPY THANKSGIVING FROM WORLDCAR!
Beer County?
September 24, 2018
*Updated 10/28/2019*
Everyone who comes to our county, for the first time usually asks the question, "How do you pronounce the name of this county anyway?" To be fair, most people get it, and recognize that the "X" in Bexar is silent. Because of its spelling, a few variations get tossed around including bear, bare, bar, beXar, and yes, you guessed it, beer as well. But this article is not about the pronunciation of our county, as it is about what often happens in our county. As the young Kevin McAlister once said about mischief, "We all do." Alcohol is no secret to anyone in Bexar county as the majority of the residents are aware that alcohol is a major part of the "culture". Most particular in San Antonio. Big cities, (in America), are known for having a lot of alcohol consumption in general, so with us being the fastest growing city in the nation this past year, why would we be any different, right?
Source: https://www.census.gov/newsroom/press-releases/2018/estimates-cities.html
Well, according to the Texas Department of Motor Vehicle Transportation, Bexar County's citizens have been living up to the name as if it actually is known as "Beer" County. Quite often - they add.
San Antonian's like their alcohol, this is for sure. How do I (we) know this? At the risk of being sarcastic or attempting to be humorous, "Why, I thought you'd never ask". Let's see, we have the Pearl Brewery, a historical brewery, in a historical district of downtown, which is also home to other breweries and other tourist attractions. There's even a park across from the brewery. (I often think, "Of all places to have a family park, hmm?") Outside at least one entrance of every military facility is a bar of some sort. (Drop Zone Cafe and Bar, Roxy's, Tiffany Cocktails, Afterburner's…etc.) There's even creative venues such as art classes that have even utilized the "social-ness" of alcohol these days, with derivatives such as "paint and sip." You also have plenty of bars, sports bars, clubs, adult businesses, hospitality businesses, and a plethora of restaurants that all serve alcohol throughout all of San Antonio, and other parts of Bexar County. But I digress. There's places specifically designed and intended for children, like Chuck E' Cheese, (I still do not get that), or "family-friendly" environments such as Main Event, Sea World, K1 Speed, (a serious go-carting racing center - yes we're probably thinking the same thing), and Six Flags, that all serve alcohol. Oh, and we must not forget San Antonio/Bexar County's drinking holidays of the year. New Years Eve, New Years Day, Fiesta, Cinco de Mayo, Independence Day, Labor Day, Halloween, Thanksgiving, and Christmas. Possibly Dias de los Muertos, and Memorial Day also? Oh, and one of those obscure "national *fill in the blank* days," revolving around alcohol, like "Beer Day," "Liquor Day," (one of which is next month, I might add), and I'm not entirely convinced these two obscure national "celebratory" days are really all that obscure here in Bexar County and San Antonio.) And of course, you have the weekends themselves. So, I'm thinking the accuracy of the Texas Department of Motor Vehicle Transportation is very much on point. Here's why:
Currently, we lead the state in Drunk Driving fatalities already this year, according to a report published by Kens5 of San Antonio, on April 5, 2018 of this year. This report covers 2 different fatal drunk driving accidents that happened less than 20 minutes apart, located on two different sides of San Antonio. Two People were killed due to intoxicated drivers driving drunk. Source: https://www.youtube.com/watch?v=uniRnATn3k0
Currently, San Antonio is listed as one of the Top Ten Deadliest Cities in Texas for DUI's this year, according to another report from Kens5 S. A., on August 16, 2018.
Sources: https://www.youtube.com/watch?v=_95_6JfSEgA
ValuePenguin - Data Study on most deadliest city for DUI's
https://www.valuepenguin.com/auto-insurance/where-most-likely-fatal-dui-texas#nogo
To say that alcohol is gaining in abundance of excess in our city could very well be an understatement. However, it is readily available on almost every corner of Bexar County. This is a fact. Could this be part of the problem of San Antonio's high rate of DUI's, DWI's, accidents, and death's all related to alcohol? Particularly with our youth?
I wish I could say that this was all there was in these reports or at least that the number of alcohol related incidents have lowered here in Bexar County. Unfortunately, they haven't. Alcohol abuse, (or addiction), is not just limited to the public. Even our public servants are having problems with alcohol. Several Public Service Employees have been arrested for alcohol related incidents just this past month.
September 10, 2018 - A San Antonio Fire Department employee was arrested and charged with a DWI.
Source: https://www.youtube.com/watch?v=TNOttq8_nEY
September 7, 2018 - Bexar County Deputy arrested for DWI. 5 other previous arrests were made on Bexar County Deputy's from the same type of offense. DWI.
September 13, 2018 - Another Bexar County Deputy arrested for a DWI. At this point a total of 19 Bexar County Deputy's have been arrested this year, and this is the 4th Deputy to be arrested this month. (September 21, 2018) *Not all arrests were related to alcohol*
Source: https://www.kens5.com/video/news/another-bexar-county-deputy-arrested-overnight/273-8250407
Another Bexar County Deputy who was arrested for Driving While Intoxicated.
https://www.youtube.com/watch?v=b2xUkyCmYQI
Welcome to "Beer County" indeed.
Bexar County This Past Year - 2017 Statistics
Bexar County, San Antonio, had the highest number of deadly crashes totaling 45 deaths. We've recently finished going through what is known as the "100 deadliest days," on the roads in America. It's the period between Memorial Day and Labor Day where teen driver casualties rises 15 percent in comparison to the rest of the year. This past year, San Antonio has had the most people killed in driver distractions within the entire state. Sounds similar to our current report in the highest number in drinking and driving fatalities previously mentioned. People are clearly getting hurt and dying, and this report was just for driver distractions and not even related to alcohol.
Sources: https://newsroom.aaa.com/tag/teen-driving/
https://www.carlsonattorneys.com/news-and-update/fatal-distracted-driving-crashes/
"Distracted Driver Crashes and Injuries by County"
http://ftp.dot.state.tx.us/pub/txdot-info/trf/crash_statistics/2017/32.pdf
Bexar County Alcohol Statistics
We're 3rd among Counties with the most DUI crashes in Texas. Bexar county had a total of 2,016 crashes from driving while under the influence of alcohol. Harris County with highest at 2,896, (Houston), and Dallas county, (Dallas Fort Worth area), with 2,263.
Sources: "DUI (Alcohol) Involved Crashes by County" (Map)
http://ftp.dot.state.tx.us/pub/txdot-info/trf/crash_statistics/2017/39.pdf
"DUI (Alcohol) Crashes and Injuries by County"
http://ftp.dot.state.tx.us/pub/txdot-info/trf/crash_statistics/2017/40.pdf
Driver Fatalities
In Bexar county, the ages of drivers killed most due to being under the influence was between 21 and 25, reaching to a total of 10 deaths in this range. 3 deaths for those 21 years and under. A total of 39 people were killed altogether in Bexar county that were driving while intoxicated.
Source: "DUI (Alcohol) Driver Fatalities by County and Age" http://ftp.dot.state.tx.us/pub/txdot-info/trf/crash_statistics/2017/42.pdf
Alcohol Related Fatalities
In Bexar County, the ages of persons killed most often due to someone being under the influence of alcohol, whether they were with the driver or in another vehicle was between 21 and 25, totaling in 13 deaths. 5 people were killed under the age of 21. A total of 53 persons were killed on Bexar county roads due to someone being under the influence.
Source: "DUI (Alcohol) Related Fatalities by County and Age"
http://ftp.dot.state.tx.us/pub/txdot-info/trf/crash_statistics/2017/43.pdf
Between Alcohol Driver and Alcohol Related Fatalities, a total of 92 people were killed due to someone driving while under the influence or being intoxicated completely. And these stats are for only those killed in vehicles, and does not include those on motorcycles, bicycles, or even pedestrians. What's more this only includes fatalities resulting from alcohol, and not just accidents. And these are just for Bexar County only.
The wretched truth about these facts here in Bexar County is that the most people affected by driving while under the influence or being intoxicated are our youth and young adults. Unfortunately, it doesn't stop there. The truth about the young being the most affected regarding alcohol related crashes and fatalities spreads statewide.
Halloween and Fiesta
Halloween is Bexar County/San Antonio's next big day of drinking, and is notoriously one of the largest where a large number of people and youth are killed every year!
People are 3 times more likely to be hit by a drunk driver on Halloween than they are on New Year's Eve, the National Highway Traffic Safety Administration, reveals. I think as citizens of Bexar County we all know that San Antonio has been notoriously using Halloween as an excuse for adult drinking parties for years now. San Antonio, is highly involved in Halloween. We have commercial buildings of all types rented out yearly solely for Halloween just for the event itself. I'm sure many of us have seen these pop up yearly. San Antonio, invests way too much in a somewhat holiday, that is not even practiced for it's actual celebration. "All Hallows Eve." San Antonio, is anything but hallow and calm during this time - as I'm sure many other cities across America are either.
Fiesta. Fiesta, is also a time that San Antonian's use it for days/times/week of drinking. (It's even been compared to as a Mardi-Gra and some have favored this.) Like Halloween, the original celebration for Fiesta has been straying away from its origin- which is the city coming together to raise money for the less fortunate - to promote health for the city - to a day more centered around drinking. The drinking centered around Halloween and Fiesta both have become notoriously bad for San Antonio so much so, that law enforcement, news and radio stations, have to yearly broadcast public service announcements to remind and warn people to either drink responsibly or not at all. They start the public sevice announcements early on within the year because it is such a serious issue, because there are so many crashes and deaths due to the abuse of alcohol during both Fiesta and Halloween. This is not an opinion. This is actually a fact. Why? Because San Antonian's like their Halloween and their alcohol. Statistics show that they like the latter more.
Sources:
"Texas CBS: 3 X's More likely to be killed by a drunk driver on Halloween than on New Years"
https://www.youtube.com/watch?v=sPev7dObECw
Jeff Davis Law Firm - S.A. "Drunk Driving on Halloween"
https://jeffdavislawfirm.com/halloween-safety/
Public Service Announcements each year revolving around the dangers of alcohol and driving. (SAPD Drunk Driving Fiesta Videos) https://www.youtube.com/watch?v=TTjTRlxPXfk
(In Spanish) https://www.youtube.com/watch?v=8RWSEtcpH2o
We can blame these statistics on irresponsible youth, but this isn't entirely fair, accurate, nor true because youth only become as responsible as responsibility is taught AND modeled to them. We were here first. Not them. Unfortunately, when youth and young adults are not following, or have not been taught properly about alcohol, (or anything else for that matter), then they will often give into peer pressures, events in life, fads that dictate their choices, irresponsible and immoral marketing from the media and public business, or buy into the belief and flat out lie that one has to get or be drunk, in order to have a good time. It's the oldest story in the book. And like the skipping record, scratched cd, or corrupted digital file that will repeat the lines: "They're doing it, so what can't I?" Sadly, the results we often find are our loved ones injured or killed due to a negligence of some sort.
All adults and businesses in a society are responsible for being responsible within a society in order for it to function and live well. It is no secret that alcohol inhibits your body's ability to function properly 100 percent, when you have too much. From the dawn of time, we discovered its affects, so it is very much common sense to most adults. It has been scientifically understood to us for at least a thousand years. So, this is why we have laws regulating it. Therefore drinking alcohol is a privilege not a necessity. We do not need to be inhibited in our faculties. There is no excuse for drinking and driving. So why does our youth have a problem with alcohol? I believe one of the biggest problems for our youth when drinking, is the adults they're learning it from. They're either learning from it being modeled properly, or improperly. If they're not learning anything about it all, then that can have the same affect as improper modeling as well. This is not a call to prohibition. Nor am I'm insinuating that drinking alcohol is bad. However, I am saying the obvious, and that is ALCOHOL ABUSE AND PURPOSEFUL DRUNKENESS IS BAD. For reasons we're all already aware of. History and Science has already proven this, time and time again.
Since we have this knowledge, I would concur that we should be asking ourselves different questions, other than, "How did we get this far?" We know the answer. Asking, "Just how are minors gaining access to alcohol?" We know the answer to this. "Have I made time to explain the importance of the dangers that come with improper alcohol consumption with my child?" You know the answer to this as well. "Are they aware that drinking is a privilege, not a necessity?" We know the answer to this one. (Though some of us may be in denial over it.) Or, a question like, why is an establishment intended for children and or family's adding alcohol to their menu? We truly know the answer to this one too. Do we need another bar at or near the entrances and or exits of our military bases? We understand the answer to this one as well. We truly know the answers to all these questions already. But the real question is what are we going to do about it? Bexar County? Is that pronounced Beer or Bear?
Resources:
*For more information regarding official Texas Statistics regarding drinking and driving visit the Texas Department of Transportation website Here
Binge Drinking During the Holidays: Statistics and Data
Faces of Drunk Driving Campaign - San Antonio July 2, 2013
Drunk Driving Accidents - Carlson Attorneys
Kens5 Top Ten Deadliest Cities for Drunk Driving 2018
Youtube CBS: 3 X's More likely to be killed by a drunk driver on Halloween than on New Years
National Highway Traffic Safety Administration Driving a bigger problem on Halloween than on New Year's Eve.
Dallas Fort Worth CBS News
Sondra's Story - She chose to drive while intoxicated and killed two people - served prison time. 2011
Video's for Drunk Driving And Drug Usage - Driving While Under the Influence. "Get High. Get A DUI."
Feel Different. Drive Different. Drive High. Get A DUI. Video
Press Release - August 2018 - Impaired driving video from NHTSA
Are You A Cell-Phony?
August 14, 2018
"The 100 Deadliest Days begin, the period between Memorial Day and Labor Day when the average number of deadly teen driver crashes climbs 15 percent compared to the rest of the year." https://newsroom.aaa.com/tag/teen-driving/
We all internally think it. "That's not going to happen to me." "I'm careful." "I'm a good multi-tasker." "Chill!" "Whatever." "I only do it every once in a while." "It's not distracting me at the moment." "Relaaax, nothin's gonna happen." Until - something - does - happen. Some of us get out of it by close calls. Some of us do not. We forget about it, or we mock it. Chance and Nature. (That thing called cause and effect.) Maybe only 1% of us admit we occasionally, or habitually have a problem with cell phone usage while driving, and maybe the other 99% are lying? One thing is accurate, and that is all of us are vulnerable to others poor choices. As the saying goes, "it's all fun and games until someone loses an eye." An eye is bad enough to lose, but if I had to learn my lesson, by losing just an eye rather than my entire body being burned, I'd say it was better than being dead. Wouldn't you agree? If old habits die hard, and your bad habit is using your cell phone while driving, how much easier will it be for your death to be by distraction of cell phone usage? Or worse? Someone else's death? Yes, these are pretty tough sentences to read through, but please hear me out, because cell phone distraction has not just been a problem, it has become an epidemic. And we all know this. However, all of us are prone to say, "It doesn't affect me, because, I don't really do it that much-so it's not that big a deal." "I won't let it go that far…" Unfortunately, it's already gone that far. Many of us continue to ignore it. It has come to affect our youth the most. And it continues to be a struggle, for all drivers.
Here is the big surprise. This epidemic hits home to us directly. Literally. San Antonio has become a special problem within the whole U.S. itself regarding cell phone usage while driving. "What are you talking about?" you might say to yourself. San Antonio is currently in the hot seat as the biggest offender within all of the United States regarding cell phone usage and distracted driving among teens death. "What?!" you reply in bewilderment, "Maybe, New York, but not us. We're not that big of a city." But I digress, yes, it is true. Here are the most recent stats for San Antonio and Texas.
A recent report, released on August 6th, 2018, reveals that, "…an uptick in fatal distracted driving crashes in major metropolitan areas of Texas…Bexar County, the home of San Antonio…had the highest number of distracted driving crashes in the state. It also had the highest number of deadly crashes totaling in 45." https://www.carlsonattorneys.com/news-and-update/fatal-distracted-driving-crashes/ People are clearly getting hurt or dying. They're mostly our youth. To us, their still pretty much our kids. So we Officially have a problem.
To pour salt on the wound, it's not just cell phones any longer, but distractions from "wearable technology", have also become a big problem as well. Wearable technology are devices connected to the body, such as smart watches. For those born in the earliest of the 90's and back, you may remember the detective Dick Tracy, from movies or the original comics, where he used a wrist watch that was his walkie-talkie communication device everywhere he went. It was his calling card. This is no longer a futuristic device used by a fictitious comic book character, but now a reality. One of the most recent releases of wearable technology, is Apple's, "iWatch, Series 3." This release can now be used without one's phone near by - or at all, because cellular is a part of the watch itself. It literally becomes the communication device. Exactly as Detective Tracy used his in the comics and movies. With this advancement becoming a reality it beckons more inquiry - could this lead to more distractions while driving? https://www.apple.com/apple-watch-series-3/
From the University of Texas at San Antonio, another very recent article released on April 23, 2018, covered a Professors, recent experiment concerning Wearable technology, where it found that it contributed to distracted driving just as much as cell phone usage. "More than a quarter of car accidents reported each year are attributed to some form of distraction among drivers, often the result of talking or texting, while driving. Nine people are estimated to die every day in the U.S. from distracted driving and 330,000 injuries occur each year because of texting, while driving, which is also the most common cause of death in teenagers." https://www.utsa.edu/today/2018/04/story/WearableTechnology.html
Don't get me wrong, it is an amazing feat that we've now accomplished such amazing technology. I'm a tech person myself to a degree. But as the old adage goes, with great power comes great responsibility. Due to such an epidemic there is now a plethora of studies and information regarding cell phone usage and distractions in general regarding driving. So much so that most states have outlawed certain usages of cell phones while driving, or have outlawed using any mobile devices altogether - including hands-free devices. If you are unaware of the laws in your city you can contact your local city government, or find them online to know what the exact laws of your city is - as they all differ. For the state of Texas, the Texas Department of Transportation reports these laws:
"In 2017, the Texas Legislature passed a statewide ban on using a wireless communications device for electronic messaging while operating a motor vehicle. Texting, as well as reading or writing email, is prohibited while driving in Texas…
Cell Phone Prohibitions
Drivers cannot send or receive electronic messages in Texas.
Drivers with learner's permits are prohibited from using handheld cell phones in the first six months of driving.
Drivers under the age of 18 are prohibited from using wireless communications devices.
School bus operators are prohibited from using cell phones while driving if children are present.
In school zones, all drivers are prohibited from texting and using handheld devices while driving."
https://www.txdot.gov/driver/laws/cellphones.html
With our youth going back to school, it's important to educate them on the dangers or using their mobile devices while driving. And not just their cell phones, but other items that cause distraction when driving as well, such as radios, mp3 players. Especially as new drivers. Our youth were given birth in the digital world, while those of us before have grown into it. As adults, people no longer know what it's like to live without them, as youth - they simply don't know anything other than that because it's already here. To them it seems normal, while to us, we've seen the change, and know that not all of it is normal, because we've lived through the change where our technology has progressed so much so that our cell phones have become an extension to ourselves. We treat it as delicate as our S.S. number. Or worse- better than our relationships with other people.
One of the reasons our teens use their devices is not only because they have a hard time resisting it themselves, but because they're used to seeing their parents, grandparents, guardians, and other adults, usage of devices while driving. Aceable and Texas A&M Transportation Institute surveyed over 1,200 teen drivers age 14-18 in Texas, California, and Florida. The question presented was who was more distracted, and what was the most distracting thing among teens parents verses their friends? 75% of teens witnessed their parents being distracted by cell phone usage, while their friends were at 72%. However, the difference between youth's parents and their friends usage, was that parents were more distracted by talking on the phone, while their friends were more distracted from texting. https://www.youtube.com/watch?v=GQK3D7YybmU
Is this what we want our children to continue to see and learn from?
The Texas Department of Transportation reports that, "In 2017, the total number of reportable motor vehicle traffic crashes on Texas roads was 537,475. Of those, 100,687 or 19% involved distracted driving (driver distraction, inattention or cellphone use). The 100,687 crashes in Texas resulted in 444 deaths and 2, 880 serious injuries." https://www.txdot.gov/driver/share-road/distracted.html
If device distraction is an issue for you, work to change your habits. The first motion to change, is renewing our mindset on an issue, and then living this by example when we're around others. So I encourage you, adults and youth -let's take the initiative and be mindful. Discipline ourselves. Teach our children. Our younger siblings. Don't allow yourself to become the hypocrite to your loved ones or friends, to where they yell back, "You do it too!" Lead by example, first. Admit that you're just as much a "cell phony," as the next guy, that you're turning over a new leaf, because it is too dangerous. It is very inconsiderate to others on the road, and it is illegal.
If cell phone or device distraction is not an issue for you, continue to lovingly and respectfully encourage those that you know have a problem with it to change their habits. As a passenger you have the right in the say of your own life. So don't be afraid to speak up with some tough love to your relatives, friends, and or coworkers. Encourage them to quit using their cell phones or other devices altogether while driving. Let's work to reduce distraction thereby reducing death.
Tips for Cell Phone Discipline When Driving
First, start simple. If the first discipline doesn't work for you, move on to the next one. This will also help you realize just how much of a habit it has been for you.
Turn the phone on Silent.
Turn the phone off.
Put the phone in a closed or locked container, box, or purse away from you.
Put the phone in the trunk.
Riding with others
What your teen can do if someone is texting while driving
When our parents are texting and driving
Other Ways to avoid texting while driving
Drive USA - How to Avoid Texting While Driving
idrivesafely - Ways to Avoid Texting While Driving
Digitalresponsibility - Safety Tips To Avoid Distracted Driving
NSC.org - Distracted Driving Technology Solutions
Organizations
MythBusters - Do Hands-Free Devices Promote Safer Driving?

"Super Cleaning A Car Engine"
Keeping your engine looking good.
Step 1: Preparation
You want to have all of your products for cleaning the engine and engine bay set for you. This includes proper clothing and PPE (Personal Protective Equipment) aka wearable safety gear. So this would include clothes you don't mind getting dirty, or long sleeves, to gloves to protect your hand, and safety glasses to protect your eyes from splashes from chemicals, dirt and grime.
Disconnect your battery from the terminals. This keeps parts of the car from shortening out or even causing injury to you. If you can remove the battery completely, do this. This will give you more room to clean around the engine. Your going to want to clean the battery as well. You can clean it first, or set it aside and clean it last. Either way if you don't have a specific cleaning space or table, it helps to place the battery on a piece of cardboard to keep it clean, free from damage, and you can easily turn or move the battery as needed while resting on the cardboard depending upon what type of surface you set it on.
Other components you do not want to get soaking wet are the Alternator, Distributor. You can cover these in plastic if you want.
Make sure all caps, lids, dip sticks, and other removable tops and coverings are closed, capped, pushed in, or sealed properly to prevent any water getting into these places. Ex. Make sure the dip stick to your engine oil, or transmission sticks are pushed all the way in, or your radiator or coolant reservoir is tightly sealed or capped.
Step 2: Dry Cleaning
Use brushes of your choice and any air tool to loosen up surface dirt. This can be done with a shop vac, leaf blower, air compressor, or even a can of air. Using the shop vac or a vacuum suck up the surface date that you've loosened. For any metal surfaces that need deeper cleaning you can use a wire brush, (or even a rotary wire brush for better results), to remove buildup.
Step 3: Wet Clean
You want to make sure that your engine is not hot. Cleaning your engine with water when it's hot can cause the metals to contract, warp, and crack. So you definitely don't want to do that. If you can touch the engine, and it's warm to the touch, (not hot or overtly warm), It's ok to clean. If the engine is cold it's ok to clean as well. However, the best temperature to clean your engine is when it's warm. Just as if you were cleaning dishes, (not sterilizing hot,) or other surfaces it helps to loosen dirt and grime buildup.
First: Cover the bulk of the Engine with a large piece of plastic, like a garbage bag. This includes cars that have a wiper shroud, or even an engine cover. Cover them anyway. Tuck the plastic around it in for a short nap. We do this because when your cleaning, (professionally or not), you should always start at the top. Because if you start at the bottom and then go to the top, you risk all the dirt from the top settling back down on your clean bottom surface. So start with cleaning the hood of the car first. Then around the outside of the engine bay, such as the wiper shroud, and then move to cleaning the actual engine and bay itself.
Clean in sections. Spray areas with low pressure hose to rinse. Wipe down your surface. Then spray down the surface with your cleaner. Agitate with a brush. Rinse again. Repeat process for each section. *If your hood liner doesn't come clean with just water, you can use carpet cleaner. Spray it down and let it set, and then rinse off again. If it's still not clean enough pop it out and set it aside. We'll come back to it at a later step. Moving on to the next step.
When you get to the engine. Carefully remove plastic, (and plastics around alternator and distributor(s) if they are covered separately), so that water doesn't seep into the heart of the engine itself. Also, sometimes an air intake is very large and gets in the way of cleaning around the engine thoroughly. If you can remove it. Remove. This will also make it easier to clean the air intake as well.
First step in cleaning the heart of the engine, start by wiping it down with cleaning wipes. This removes the grease and grime really well. Removing the grease also helps the engine to cool much quicker as well, because grease acts as an insulator. Next spray it down with your cleaner, (soap water in this case), and this is safe to use everywhere on the engine. Then, use a brush to agitate all the dirty surfaces. Now, using a microfiber towel, wipe up all the access water and dirt. A microfiber towel will absorb the liquid and dirt. It's also drying at the same time.
Step 4: Dry
Take a microfiber towel and start drying off every part got wet during the cleaning process. Everything has to be dry before you can start the next process which is detailing. Make sure you get all areas where water may have become standing or puddled, such as in crevices, or dips and indentations that are a part of the design of the engines make up. Use the microfiber towel to absorb excess water, or a shop vac, or both to ensure all water is completely gone. *Remember the whole must be dry before reconnecting battery to car.
Step 5: Detailing
Get your favorite spray wax, and once again clean in sections. Starting with the hood spray over all of the painted surfaces. Then, take a clean (or new) microfiber towel and buff in the wax into the paint. Move on around in sections where all the painted surfaces are. Doing the same process, until finished.
The next part is cleaning all of the rubber and plastic surfaces. Using your water based trim restorer, (or your choice). Never use WD-40 or Engine oil to clean your engine bay because it will damage the plastic and rubber parts of the engine in the long run. Having the trim restorer prepped in one central area, such as in a bowl, or on a part of plastic that you will covering anyway, will help in work flow process, with not having to re-squirt or pour more out as you use it up. Work the restorer in over all plastic and rubber parts with a brush. *Note- be sure that you do not get anything or chemicals on your belts, because this can cause them to squeak, squeal, or even slip.
After covering all of the plastics and rubber in the restorer, take a clean, (unused) microfiber cloth and wipe/buff down all of those surfaces you covered to even out the restorer.
Now, don't forget the parts you took out.
To clean your battery: where gloves, clean contacts with a toothbrush and battery cleaner. Don't use any cleaner on the outside of the battery. Simply wipe down the outside of the battery with a damp cloth, and then dry.
To clean the air intake: You are simply cleaning the outside of it. Use the same process as you did with the other plastics and rubber. I don't recommend watering it down at all. Simply take your trim restorer and work it in with a brush and then wipe it down with a microfiber cloth.
Hood Liner Deeper Clean: Make sure it's completely dry before beginning. Then, spray it with fabric dye of the color of the hood which will restore it in color.
Your final step is to put back in all the parts you took out for individual cleaning. Your battery, air intake, and the hood liner.
You can finish here if you want, but to super clean it look around for any rusted bolts, discolorations, or faded lettering, and use the markers to cover, fill in, or restore areas. *Use a toothbrush to wipe off excess rust from bolts before applying paint.

"Cool-ant off for the Summer"
Maintaining the coolant in your car
We're all planning on cooling off for the summer. Taking a breather. Going on vacation. Going to the local pool. A trip to the lake. Swaying in the hammock. Picnicking under the shade of a tree. Star gazing in the night sky. We're all looking for that time of relaxation. Whether it's in our own backyards or floating gently down a soothing lazy river on a giant inner tube. The plans in our mind's eye. But then our steps to that fantasy come to a halt when we see the smoke rising.
Whatever the reason, emotions of irritation and/or worry now loom or overwhelm you.
We often forget about engine coolant, because we do not see it physically everyday. Many of us have been in the position when your driving somewhere, and suddenly your car starts smoking, or the engine light comes on, or you start hearing this rumbling sound coming from the front of the car. You can feel the tension and pressure of something ricocheting off parts of the engine to the hull of the cabin of the car. You know it's not a good sign. So you pull over. Now delayed. Late for work, a doctors appointment, a flight, sons little league game, daughter's friend's birthday party, your buddy's concert, your best friends cousins daughter's friends quincinerra, the six am release of the next Pokemon toy, your nuptials.
To ensure that you don't come up against an overheating car, and risk missing your next memorable occasion, such as your own wedding, be sure to keep up with your coolant levels-particularly in hot and more humid environments. We've gathered some simple steps to help you maintain good engine health so you can continue "Cool-ant" off for your summer.
Simple Steps
Always keep Coolant/Antifreeze on hand.
Inspect for leaks, cracks, punctures, or other damage on hoses, clamps, water pump, and radiator. Ensure that the radiator is full of coolant. Never open in hot! Do not over fill it. Ensure that the reservoir is filled with coolant in between the high and low fill line at least. Never over fill it. Never let reservoir coolant stay at a low level for a long period of time. It's also a good rule to check your coolant before going on long road trips as well.
Following these simple tips will help keep the life of your engine running properly. Who needs car troubles, when you have vacationing to do, right?

Tire Maintenance
This month we're focusing on tire maintenance. Tires are generally a Bi-Weekly to a Monthly task, but can also be a weekly task depending on road conditions. Checking your tire tread on a periodic basis will reduce the risk of accidents. Road constructions, large pot-holes, or accidents are some of the primary reasons why tires get damaged-even when we don't realize it. If there is long-term road construction going on in an area you drive through daily, then be mindful of debris such as nails, metal, or wood objects that could potentially puncture your tires. Running over debris, in general, is a potential hazard for your tires. The majority of damaged tires come from debris on road. Other tire damage can come from driving considerably fast over pot-holes, and also raises the risk of having an accident. These tips below can help you out with your tire maintenance.
Check Tire Condition
The less amount of tread on the tire, the more unsafe it is. You can know it's time to change your tires by giving it the "Penny test." Take a penny and turn it until Lincoln's head is facing straight down. Place it between the treads of your tire. If the tread does not reach the top of his head then it's time to replace your tires. If it reaches the very top of his head then you have just enough tread left - indicating there's not much life left in the tire but are still ok to drive on. If the tread goes well over his head, then you're in an optimal range for the tire.
Tire Pressure
Be sure you properly check your tire pressure and ensure the proper amount of air, (known as PSI), is injected into them. If you don't know the proper amount of air that goes in your tire, the amount of air is found in 2 places. You can look at the wall of the tire, or on the inside side of the driver's door panel. This is sometimes located on the inside side of the driver door, or the inside frame of the driver door. Another thing you want to do is to check your tire pressure early. The first time you drive for the day is the best time to check because in this way the tires will not be hot and expanded. You want them still cool so that you have an accurate reading of your tires.
Extra Tire, Spare, or Pump
Several car manufacturers are skipping placing a "Spare" tire in brand new vehicles and replacing it with a pump altogether. (And still charge you as much or more for the vehicle without the spare.) Pump's are an ok alternative so as long as your tire's damage isn't beyond the ability of the pump or special sealants, (Like Fix-A-Flat), to fix your tire. Especially when you're in a hurry. But again, these are meant for temporary fixes only. Unfortunately, pumps do not suffice should your tire have a blowout or any damage that creates a puncture too large for the temporary fixes to work. Also, some automated pumps sometimes have parts that have to be replaced after being used once, such as a "can of air," and may cost more money in the long term.
Often a Spare tire is the best way to go. The "Spare" is a considerably smaller version of the full-size tire that is already on a vehicle. A spare is usually stored underneath the cargo bay within the trunk of a car, or mounted on a rear door on the back of a car, or mounted to the frame underneath a car. If a new car does not come with a spare tire an option of purchasing from the dealer or a tire shop is always available. Alternatively, one can invest in an extra full-size tire. Most people simply keep a spare, because if you buy an extra full-size tire, you'll also need to buy an extra wheel, aka the rim, (the round metal part), that the tire goes around, in order to be able to use the tire. Tires and Wheels are sold separately, but some businesses will sell both as specials. It's more convenient to have a spare tire than a pump, but it is a better investment to purchase a complete full-size tire as your back up spare for emergencies.

Daily & Weekly Tips For Taking Care Of Your Vehicle
We all want our vehicles to last well beyond the lifetime of their cost.
Hoping that the money we spent was worthwhile. No matter how much you spent or didn't spend when you practice good basic car maintenance your vehicle will last. Like any other habit, good or bad, it starts with a routine. Start out by making a list. What are things that you know you need to be taking better care of, and pay more close attention to in your vehicle? Write these thoughts out, and then form a list. So, now- you're making a list. You're checking it twice. You going to find out that this is not a Christmas song, but rather a way of building a healthy routine. Once you have this list created. You need to consider if these are daily or weekly tasks - or further out. (Monthly or annually.) Once you have this, once again you're making your list, you're checking in twice, you've already found out that it's nice - so it's now time to put it into practice. Here are some everyday tips on keeping your car in good daily and weekly condition that we've come up with. Consider these tasks to keep your car up and running for a long time. Waste not. Want not.
Daily Tips
Take everything out of your car that is not needed.
Excess materials cause clutter, distraction, and can be unsafe if defensive driving is necessary or cause or add to injury during an accident.
To keep your car nice and tidy, dispose of your trash!
Trash can be daily or weekly depending on conditions such as allergies or drive through meals. Like excessive materials, garbage can also cause clutter, distraction, create stress, and can also cause sickness. Garbage left in a vehicle during long periods of time becomes susceptible to weathering conditions. Hot and cold. Luke and Skywalker. I mean lukewarm and muggy. The perfect place for bacteria to form, that include spores, molds, and fungus. The dust alone that collects in a car over a few days, can cause respiratory issues.
Pro-Tip: Keep small bags, or reuse plastic shopping bags for as garbage bags. You can store extras in your car in an area of your choice. Either a seat pouch or a glove compartment is a better option to store such items, rather than the trunk of your car so that they are readily accessible. When you have to fill up, dispose of it, for a more controlled way of handling garbage. Place a plastic bag inside an opening and sealing the container, such as a cereal or sugar plastic container. This way you can close or open the container if needed, and if the container falls over, the garbage does not spill out into your car.
Weekly Tips
Clean your windshield.
If available, use the ready squeegee when filling up, or have a glass cleaner and a micro cloth stored in your cargo area for quick spot cleaning.
Tire Pressure.
Be sure you properly check your tire pressure and ensure the proper amount of air, (known as PSI), is injected into them. If you don't know the proper amount of air that goes in your tire, the amount of air is found in 2 places. You can look at the wall of the tire, or on the inside side of the driver's door panel. This is sometimes located on the inside side of the driver door, or the inside frame of the driver door. Another thing you want to do is to check your tire pressure early. The first time you drive for the day is the best time to check because in this way the tires will not be hot and expanded. You want them still cool so that you have an accurate reading of your tires.
Bi-Weekly or Monthly Tips
Check your tire tread & all your fluid levels!!!
It's important to check these as this can make or break your car.
Engine Oil
To check in engine oil, your car MUST NOT BE RUNNING.
Oil is what keeps your engine running smoothly. If there is not a consistent amount of oil in your engine it creates more stress on the engine parts and leads to a shorter lifespan, and if there is not enough oil in your engine, in the worst cases it will "Sling a rod," Aka blowing up. It's just as important to make sure that you don't over-fill oil levels either. Too much oil and the engine parts cannot function adequately either. For the best readings of oil levels, ensure that you check your oil when your car is parked on level ground, and the engine has had several minutes to cool down. When traveling extensively letting the engine cool down is not avoidable, so still check it, but also check after you've reached your destination.
Transmission Fluid
If levels are too low or too high the transmission cannot run properly
Just like oil, it's important to check your transmission fluid levels. Your vehicle NEEDS to be running when checking your transmission. (The complete opposite of checking your oil.)
Car manufacturers are creating more and more transmissions that you no longer have to worry about maintaining your transmission fluid on a weekly or monthly basis. These are called CVT (Continuous Variable Transmission). If you don't know if your car has a Continuous Variable Transmission, the first sign that they do is that these cars will not have a readily accessible dip stick to check your transmission with. They're further tucked away within the engine and usually do not have an accessible dip stick that you can pull. Vehicles with CVT's will need to have their transmissions flushed and refilled about every 2 years depending on your vehicle.
Brake fluid
Brake fluid is often overlooked for two reasons.
One, it's a small rectangular container. Two, it's not often needed to be filled or even topped off. But it should always be checked because it's an important component of the brakes and without brake fluid, your car will not stop. So always keep it filled to the defined line, (and no more), on the container.
Anti-freeze/Coolant
It's very important to maintain the Anti-freeze/Coolant in your vehicle.
It serves 2 purposes. It cools your vehicle, and then it keeps it from freezing over during cold weather.
Windshield Washer
Filling up or topping off the windshield washer fluid is always a good habit.
Checking the windshield washer fluid may not be the most important maintenance for your car, but it is one of the best preventative cares that you can do. The truth is that you don't always know when to anticipate a potential storm, muddy water from a leftover rainstorm or a kamikaze of bugs. There's nothing more annoying than your windshield washer fluid going out when you have a hazy coated windshield.
Mileage-Based
Regardless of your make & model, there are a few universal mileage-based maintenance procedures.
Change Oil Every 5,000 Miles
It used to be that most vehicles needed a regular oil change every 3000 miles.
This isn't the case for most cars any longer. Most modern vehicles now will not need to an oil change until they've gone at least 5,000 miles. Now, if you still own a car from the early 2000's or well before this time, then you definitely should get an oil change within the recommended 3,000-mile increments.
Pro-Tip: If you have a vehicle with an oil leak, check your oil daily to ensure that enough oil stays in the engine until you can get it repaired.
Rotate Tires Every 5,000 to 10,000 Miles
Rotating your tires prolongs their life.
Keeping your tires rotated also keeps the car well balanced when driving resulting in having better gas mileage and a safer drive. It also saves you money on tires in the long run.
Change Air Filter Every 12,000 Miles
Most people have their air filter changed as they are getting an oil change, just to have it done so that they don't have to worry about it later.
However, an air filter doesn't have to be changed even as often as your oil does. Sometimes there are exceptions, such as extensive amounts of pollen, or smoking while in your vehicle. (This also devalues your vehicle - much less your health.) One can also change an air filter on their own, should they desire to. It's a great way to save money! You would be surprised that most air filters are fairly easy to get to on most vehicles. And easier still is that they are easy to change for the most part. Any auto parts store will more than likely have the type you need, or you can always purchase an OEM part from your vehicle's manufacturer from a dealership.